The installation of O&O Defrag is very simple. Please follow the steps below:
Turn on the computer on which you would like to install O&O Defrag.
Login as a local Administrator.
Insert the data medium with the required software in its respective disk drive, e.g. your CD-ROM drive, or start the installation file provided (SETUP.EXE).
Please follow the installation guide and confirm the End-User license Agreement (EULA). Please read it carefully before the installation - it is binding.
To complete the installation of the program, please restart your computer, if you have not been prompted to do so already.
Information about licensing
Note:
In order to activate the product after installation or to gain access to the Full Version at a later time, you must possess a valid license key. This license key is also called a registration code, serial number, or product ID.
O&O Defrag needs to be licensed per computer; in other words, you have to purchase a license for each computer where you want to employ O&O Defrag.
If you do not enter a valid license key, you will only be able to use O&O Defrag as a trial version with a limited functionality.
If you would like to implement O&O Defrag in your company or as a technician for your customers, then please contact one of our resellers or our Sales Department.
Enter license
After the program starts, a summary dialog will automatically open that gives you the option of opening the registration dialog at the bottom left. As an alternative, you can use the Info section in the ribbon to start the registration dialog by clicking Register now.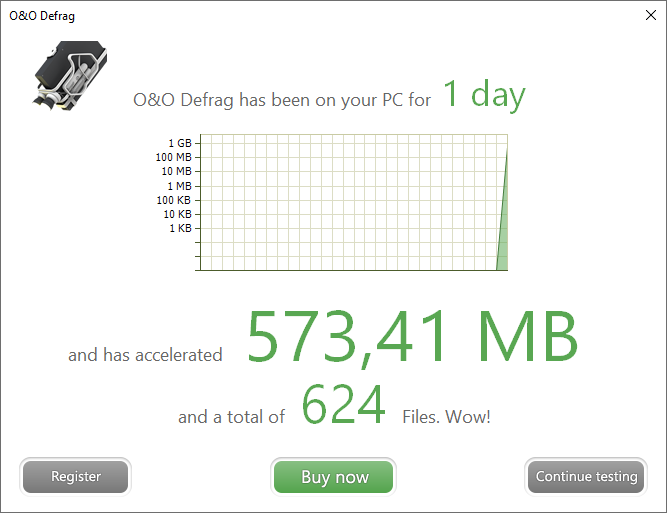 The registration wizard allows for a simple registration process.
When you select the option I want to enter my license, a dialog box will appear where you can enter the registration code you received when purchasing the software.
If you have purchased the download version of the software, please enter the license information (name, company and license key), just as they are written in the confirmation E-Mail you received.
If you have purchased the box version of the software, please enter the license key as it is written on the license card included. In addition, please enter your name and if needed your company.
Please make sure that you do not confuse the digit "1" with "I" or enter any empty spaces where they don't belong.
Press Next to save the registration data or Cancel to leave the dialog window without saving the data.
When you have correctly entered the license code you will receive a confirmation in the dialog window.
If you encounter problems while entering your license key, please contact our Support: support@oo-software.com
Online registration
If O&O Defrag was purchased on our Online Shop, you've automatically registered with us. If O&O Defrag purchased at a retailer, you will be asked if you want to register while entering the license information. You then have the option of either registering immediately or at another time. All you'll need is a functioning Internet connection and a valid license key.
You may also complete the registration form right here:
http://www.oo-software.com/register
Just return the completed online form by clicking "Send" and you'll be eligible to take full advantage of our O&O Customer Service.
What are the advantages of online registration?
Online registration gives you the benefit of having your customer data kept safely in our files, which means we can provide you with even better service. If, for example, you accidentally lose your license key, we can quickly resend it to you without any problem. The license key is needed for using the full version of a program, getting updates, and for reinstalling the program when you make a new setup of your computer.
Further advantages will let you:
• Be supplied with the latest information about our products
• Make free updates on new versions of purchased items (minor updates)
• Upgrade to a new version at a special discount price (major update)
• Obtain support from our customer service
Uninstall
To remove O&O Defrag from your PC, please follow the instructions below:
Open the Control Panel in the Windows start menu and then click on Software.
Select O&O Defrag from the list and then click on (depending on the OS) Uninstallation or Add/Remove.
Confirm the uninstallation. You'll receive a confirmation notice when uninstallation is completed. When prompted, restart your computer.
Updates of O&O Defrag
O&O Defrag automatically checks if a new version is available whenever it's started.
If there is a new program version, you will be able to update your version.
Suggestion: You can find your license data and the exact version number you're using by clicking About O&O Defrag in the Ribbon Bar at Info.
So-called Minor-Updates (Version 21.1 to 21.2, 21.0 to 21.5, etc.), where smaller changes in the program have been made, are free. Major updates, such as from version 21 to 22, must generally be purchased.