The installation of O&O Defrag is very simple. Please follow the steps below:
Turn on the computer on which you would like to install O&O Defrag.
Login as a local Administrator.
Insert the data medium with the required software in its respective disk drive, e.g. your CD-ROM drive, or start the installation file provided (SETUP.EXE).
Please follow the installation guide and confirm the End-User license Agreement (EULA). Please read it carefully before the installation - it is binding.
To complete the installation of the program, please restart your computer, if you have not been prompted to do so already.
Install and That's All
When you download O&O Defrag from our website or from a link sent by our Online Shop, you receive a simplified installation. This installs O&O Defrag in the standard configuration and sets optimized settings for your computer during the new installation. Once installation's completed, O&O Defrag, without any further action on your part, starts working in the background to improve your computer's performance.
If you're running an update or upgrade, we recommend checking the settings for automatic defragmentation and optimization just in case you disabled them at an earlier point in time.
In the event you don't want the standard installation, click Advanced installation in the reduced installation dialog. Once you do, the classic O&O Defrag installation wizard with all the usual configuration options will then be opened.
Information about licensing
Note:
In order to activate the product after installation or to gain access to the Full Version at a later time, you must possess a valid license key. This license key is also called a registration code, serial number, or product ID.
O&O Defrag needs to be licensed per computer; in other words, you have to purchase a license for each computer where you want to employ O&O Defrag.
If you do not enter a valid license key, you will only be able to use O&O Defrag as a trial version with a limited functionality.
If you would like to implement O&O Defrag in your company or as a technician for your customers, then please contact one of our resellers or our Sales Department.
Enter license
When the program is started, a summary dialog automatically opens and this gives you the option of opening the registration dialog at the lower left. You can also open the registration dialog under Info from the ribbon bar by clicking Register now.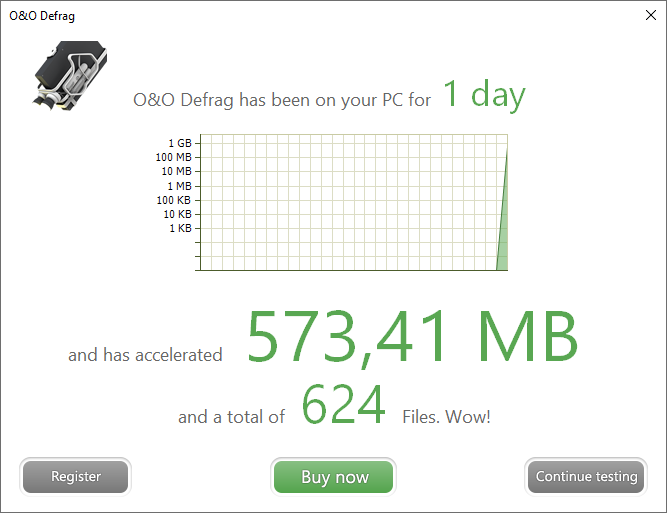 The registration wizard makes licensing very easy for you.
When you select the option Enter your registration code, a window appears where you can enter the license information you received after purchasing the software. If the product was delivered electronically as a download, enter the license information (Name, Company, and Serial Number) as it appears in the email you received in the documents sent to you after placing your order.
When entering the serial number, make sure you don't confuse the digit "1" with the capital letter "I". You should also avoid entering any empty spaces.
Click Continue to enter the license data or Cancel to exit the window without entering any data.
If the license key is entered correctly you'll see a confirmation in the next window.
Enter license
If you have any problems entering the license key, please contact our Support under: support@oo-software.com
Using the trial version
You can use all O&O Defrag features free of charge and without any obligations for 30 days as a trial version. The registration wizard will display the amount of time remaining in the trial period every time you open the program.
Online registration
You are automatically registered by O&O Software if your order was made directly in the O&O Online Shop. If the software was purchased from a different vendor, you'll be asked if you wish to register after you enter the license information. You have the option of registering directly or at a later date. A working internet connection and a valid license key are the only requirements for doing so.
You can also click the link below to find the registration form:
http://www.oo-software.com/register
Just return the completed online form by clicking "Send" and you'll be eligible to take full advantage of our O&O Customer Service.
What are the advantages of online registration?
The advantage of online registration is that your customer data is saved by us and this enables us to help you more effectively in the future. If you ever misplace your license information, for example, we'll be able to resend it to you quickly upon request. You'll need the license key to convert your program to a full version, for updates, or after a new setup when you want to reinstall the program.
Further advantages will let you:
• Latest information about our products
• Free updates on new releases of the product you purchased (so-called minor updates)
• Option of upgrading to new versions at a discount (so-called major update)
• Access to our Customer Support
• and much, much more...
Install O&O Defrag updates
O&O Defrag checks automatically for new versions every time you start the program.
Whenever a new program version is available, you'll be able to install the update.
So-called "minor updates", meaning program versions containing small adjustments and enhancements (from version 24.1 to 24.2, 24.3, 24.5…) are available free of charge. "Major updates" such as from Version 23 to 24 involve purchasing a new license.
Tip:
In the ribbon bar under Info you'll find About O&O Defrag. This is where you can see your license data and the correct number of your program version.
So-called Minor-Updates (Version 24.1 to 24.2, 24.0 to 24.5, etc.), where smaller changes in the program have been made, are free. Major updates, such as from version 24 to 25, must generally be purchased.
Removal
Please use the following instructions when you're ready to uninstall O&O Defrag:
Open Settings from the start menu.
Click Apps (Apps and Features)
Select the Edition you have installed O&O Defrag Professional Edition, O&O Defag Workstation Edition, or O&O Defrag Server Edition from the software list.
Click Uninstall.
The O&O Defrag uninstallation program will be started.
Confirm uninstallation of O&O Defrag. Following successful uninstallation you might have to restart the computer.